Siphiwe Tshabalala insists the youth "need to be educated and advised" so that they are better prepared for lifer after primary and secondary school.
The Kaizer Chiefs and Bafana Bafana star was speaking to the youth of Phiri (Soweto) at the Seana Marena Secondary School on Monday afternoon.
Shabba was only too happy to return to his alma mater and impart some pearls of wisdom.
The Bafana playmaker emphasised the importance of a good education and cautioned the youth about the dangers of alcohol and drug abuse.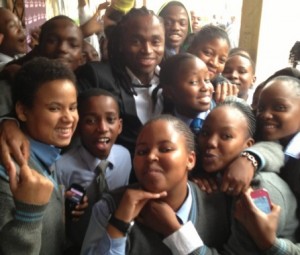 "The school program for me to come and speak to the learners is a great initiative. With all that the community has done for me, I think it is always my place to give back and help others realise their dreams like me.
"The youth is the future and they need to be educated and advised. This will encourage them to acknowledge that there is life after primary and high school. In this manner we can help in educating them about the negatives of Alcohol, Drug abuse and other issues like Aids etc," Siphiwe said.
The Bafana Bafana international also revealed that plans to reward a learner with a bursary. He will also spearhead fundraising efforts to help his school acquire more equipment and improve its technical infrastructure.
"In two weeks' time we are planning to host a tournament that will help us raise funds. These funds will therefore help the school acquire more equipment and material for effective education.
"They should use the money that we raise to buy computers and improve their technology in order to offer the learners quality education. This will help the kids get an opportunity to be what they strive to be in future."